Welcome to the Rowell Trading Co.
We are a market leading UK wholesaler of semi precious gemstone products, including tumblestones, rough gemstones, angels, gemstone jewellery, New Age Gifts, gemstone beads, candle holders and carvings.
Established in 1990 as a small family business we have developed into a renownd name in all things semi precious gemstone. We aim to provide all our customers with great personal service.
For our trade prices please simply fill out our registration form and scroll through our huge range.
Situated very conveniently near the M1 and M62 our warehouse is open to trade customers Mon-Fri. You will find all our lovely crystals at affordable prices in our Aladdin's cave of a showroom.
You will be welcomed with smiles a Yorkshire brew and if your lucky by Bob, our resident Jack Russell.
We are willing to throw in some fantastic perks and discounts too.
For any orders over £500 exc VAT we will be happy to offer a 10% discount on goods plus 12p per mile travelled, up to a maximum of £60 in goods.
For orders over £1000 exc VAT we will also throw in £60 worth of goods to cover any acommadation, as well as the standard 10% showroom discount.
Visits are by appointment only, please give us 24 hours notice before stopping by.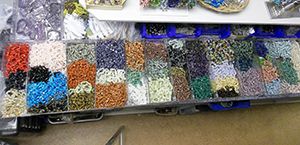 We have 43 Gemchip bracelets in our range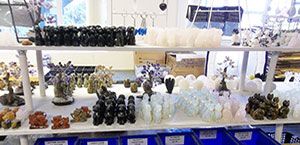 Lots of cute animal carvings are still on the shelves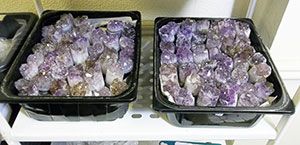 A fresh helping of amethyst cores have just arrived